Retirees Café
Wine tasting & tour at Chaberton Estate Winery
July 25

Chaberton Estate Winery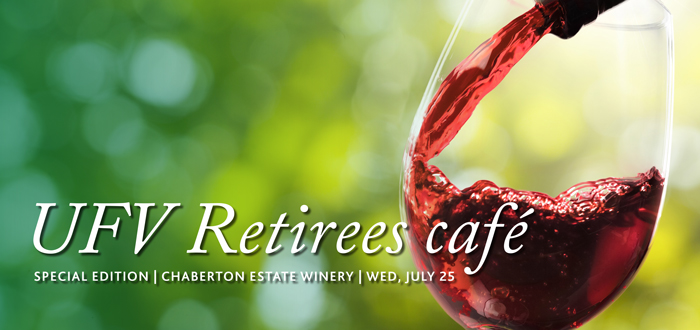 1064 – 216 Street, Langley, BC V2Z 1R3
We have an amazing outing planned at Chaberton Estate Winery in Langley! Brian Ensor, General Manager, will start us out with a complimentary tour of the winery, followed by a tasting of several of their award winning wines. You are then invited to stay for a no-host lunch at the Bacchus Bistro, if you choose. This is one you don't want to miss!
Located on 55 acres, Chaberton is one of the largest estate wineries in British Columbia and the oldest in the Fraser Valley. Their wines have won numerous awards in wine competitions held throughout Canada, the United States, and Europe.
You have a lifetime of experiences and an accumulation of knowledge that many people would benefit from. A knowledge philanthropist not only wishes to share what they know, they want to benefit others.  Let's share a glass of wine and talk about how you can enrich your life and the lives of others at UFV.
This is a special edition of Retirees Café. Space is limited.
Please RSVP before July 23. Call 604-851-6354 or email Deanna.McIntyre@ufv.ca
---
Retirees Café is held every other month, on alternating campuses. The fall get-together will be on Wednesday, September 26 in Chilliwack. Retirees Café is open to all UFV Retirees and employees who are retiring soon. These events should focus on what you find interesting. If you have suggestions, please contact Deanna.McIntyre@ufv.ca.
Help us spread the word about Retirees Café. Please share the invitations with your UFV friends and colleagues. 
Share This