« Go back to Paving the Future
Thank you for considering supporting Paving the Future campaign by ordering a paving stone. 
The spirit of our pavers is to celebrate your connection to UFV. As a reflection of UFV's values, we ask for all inscriptions to be welcoming and inclusive to all people.
Your contribution will support the UFV Alumni Association's scholarship and bursary program. In recognition of your support of Paving the Future campaign, you will receive a charitable tax receipt and a paver will be inscribed and installed at UFV. 
The following series of Frequently Asked Questions (FAQs) have been developed to clarify what is permitted on the four-lines (20 characters and spaces per line) available on your paver. If you have questions not answered in the FAQs below, please contact Deanna McIntyre at Deanna.McIntyre@ufv.ca
What can be included in my inscription?
The following elements may be included on your paver, space permitting. UFV reserves the right to approve all donations and inscription requests for commemorative pavers: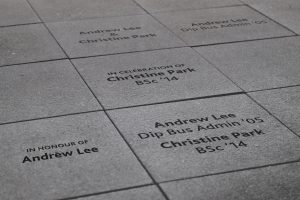 One or two individual names maximum, e.g.:

Andrew Lee
Andrew Lee and Christine Park
Andrew and Christine Lee
Lee Family

Optional prefatory statement:

In honour of
In memory of
In recognition of
In celebration of

Additional Options:

Provide a personal message that relates to your own or the honouree's personal connection with UFV. Please use your own original words.

UFV Credential (e.g. degrees, honorary degrees, diplomas, etc.)

BSc '14

BBA Marketing '12

Dip Bus Admin '14
What is not allowed on a paver inscription?
The following are not permitted:
Non UFV credentials

Quotes of any kind, graphics, images, etc.
How long can my inscription be?
Paver inscriptions can be up to 20 characters per line, including spaces, 4-line maximum. Inscriptions must follow the naming format described above.
Can I include a credential with my inscription?
Yes, UFV credentials may be included. Please observe the following guidelines:
UFV credentials only

All credentials will be verified, and must have been awarded prior December 2020.
When will UFV contact me to confirm my paver inscription?
We will begin reaching out in January 2021 to confirm the wording of your inscription. All donors should expect to hear from us no later than May 2021.
I've already submitted my inscription but have changed my mind. How do I make changes?
Please reach out to Deanna McIntyre, Manager, Donor Relations at Deanna.McIntyre@ufv.ca who will help you make any necessary adjustments to your submitted inscription. The deadline for changes is May 1, 2021.
Will I get to see my inscription before it is fabricated?
Yes, a realistic rendering will be shared with you and there will be time for you to respond before it is sent for fabrication. Final changes must be received by May 28, 2021.
When will my paver be installed? Where will my paver be located?
Construction of the entrance garden and plaza will begin in spring 2021. 
We expect to celebrate the project's completion in summer 2021 and will be inviting donors to view their paver(s) in accordance with social gathering restrictions at that time.

Pavers will be installed in the new entrance plaza between buildings A and B, Abbotsford campus.

We will work with you on grouping pavers, with the specific location determined by UFV.