April 5-7 are Cascades Giving Days at UFV!
Our student athletes need your support.
Countless students have struggled financially this year as a result of COVID-19, and UFV student athletes are no exception. Many can only afford to attend university on an athletics scholarship, made possible through the generosity of people like you.
Take Emery for example. Captain of UFV's women's golf team, Emery knows what it's like to need help.
While she was being scouted and recruited by UFV, Emery was facing a very difficult situation. Her father was battling cancer, and her mother had become the family's sole provider. Her dream of attending post-secondary and playing for a university-level golf team seemed unreachable. But because of donor support, UFV was able to provide Emery with the financial aid she needed.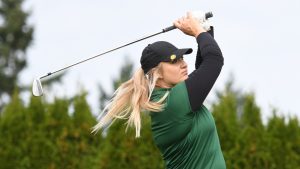 "I would never have had the opportunities I've received at UFV without people willing to help students succeed. I will be forever grateful."
And succeed she did! In her first year on campus, Emery helped lead her team to a gold medal at the 2017 Canadian Collegiate Athletic Association (CCAA) national championships, finishing fifth overall in individual competition. She also:
Was named a CCAA All-Canadian (2017) after winning the PACWEST conference individual title and team title.
Led the Cascades to bronze in the team event at the 2018 Canadian University/College Championships, finishing eighth overall individually.
Helped the Cascades win team bronze at the inaugural Canada West conference championships in 2019.
Has continued to train with the team, even though competition is paused due to the pandemic. We look forward to watching her shine in 2021!
International students also need donor support. Consider Eduardo, a new member of UFV men's volleyball team. Eduardo is an international student from Brazil who would not have been able to pursue his sport in his home country — that option is only available to the wealthy. Thanks to our generous donors, Eduardo was able to follow his passion and play volleyball for UFV.
After two years at Humber College in Ontario with an exceptional list of awards and championships, Eduardo was scouted to UFV. He jumped at the chance to live in BC and to be closer in distance to his family in Brazil.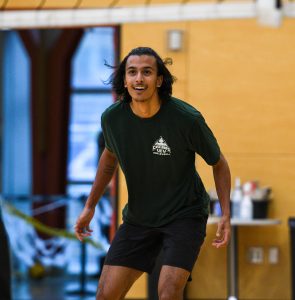 "It's like a dream to be living in this beautiful province in the great country of Canada and pursuing both my athletic and my academic goals. Many generous donors have helped student athletes like me follow our passion and reach our goals."
This is Eduardo's first year at UFV but because of COVID-19, he has yet to wear a UFV uniform in competition! We can't wait to see him excel on the court. At Humber College, his team went on to win:
2020 CCAA Silver Medal
2020 OCAA Champion
2019 OCAA Silver Medal
There are many student athletes at UFV like Emery and Eduardo whose lives have been changed by the generosity of our community. Many would not be able to attend university without donor support.
Please take the time April 5-7 to support our student athletes. Our ultimate goal is to be able to fund a scholarship for every UFV athlete.
Thank you to Jacob Bros. Construction for kick-starting the campaign with $10,000! Every additional dollar raised up to $10,000 during the campaign will be matched!
With gratitude,
Steve Tuckwood
Director, Athletics
Anita Nielsen, MMSt., CFRE
Executive Director, Advancement & Alumni Relations
Share This