Broadcasters support UFV Media students
A new bursary has been established for UFV Media and Communications Studies students, thanks to the generosity of the British Columbia Association of Broadcasters (BCAB).
UFV is one of five post-secondary institutions awarded a one-time donation of $10,000 by the BCAB to establish the British Columbia Association of Broadcasters "Made in BC" Student Bursary. The others are BCIT, Capilano University, Douglas College, and Kwantlen Polytechnic University.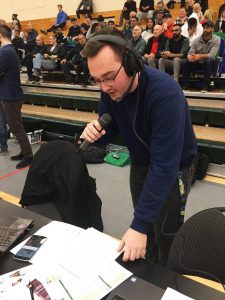 "In 2020, the BCAB was in a position to invest in the future of our industry," explained BCAB President Rob Bye. "We were pleased to be able to assist in the development years of those pursuing a career in media at these BC institutions."
The British Columbia Association of Broadcasters represents private television and radio broadcasters. The private broadcasters of BC have a long and productive history of serving the citizens of this province with timely and useful information as well as diverse programming. One of the BCAB's mandates is to promote and contribute to community-enhancing programs throughout the province.
The BCAB Board of Directors recognizes that paying for post-secondary tuition can be a challenge at the best of times, but that during the pandemic, it is a more significant challenge. UFV Financial Aid and Awards created ten $1,000 bursaries from the BCAB donation. Students who meet the bursary criteria may apply online.
Dr. Eric Spalding, an associate professor in the UFV Media and Communication Studies program, thanked the BCAB on behalf of program students.
"We in the Media and Communication Studies (MACS) program appreciate the generosity of the British Columbia Association of Broadcasters in setting up this bursary. The money will certainly come in handy for students who face many financial challenges during their studies. It will also boost their self-esteem and motivate them to pursue studies in MACS."
Check out https://www.ufv.ca/scms/programs/media-communications/ to learn more about UFV's Media and Communications Studies program.
To learn more about establishing a named bursary or scholarship, please contact the Advancement office at giving@ufv.ca, 604-854-4595.
Share This