Celebrating UFV Ripple Makers Paddle Recipients
UFV recognized the generosity and contributions of individuals, companies, and organizations at the Celebrating Difference-Makers event on November 10.
UFV is grateful for all contributions, regardless of the size of the gift. Donations to UFV support UFV student bursaries, scholarships, student emergency funding, as well as academic and research programs.
Anita Nielsen, Executive Director, Advancement & Alumni Relations, presented the iconic Ripple Makers paddles to the donors in attendance. Each paddle category has a unique design, hand painted by UFV Visual Arts and Graphic Design student Anoop Dhaliwal and engraved with the recipients' name(s) by Professor Joel Feenstra of UFV's Faculty of Applied and Technical Studies.
Loyalty Paddle — giving to UFV for 15 years+
Our Loyalty donors each have their own unique story as to why they've contributed to UFV for 15 or more consecutive years. Norm Taylor is one of these special donors.
Norm retired from UFV in May 2021. He was a steady presence in the Physics department for more than 25 years, joining in 1993 as UFV prepared to launch a Bachelor of Science degree. Norm donated to UFV through bi-weekly payroll deductions and designated contributions for 21 years. He plans to continue his support. His reason for donating to UFV?
My focus has always been on supporting the students. My colleagues and I could see that there weren't that many scholarships or awards for physics students, so we decided to work together to fund something.
Thanks to the generosity of Norm and others like him, UFV offers Physics Excellence awards to the top physics students in each year of study. Norm was also instrumental in establishing a Physics endowment.
Loyalty paddles were presented to:
BMO Bank of Montreal
Anne Russell
Norm Taylor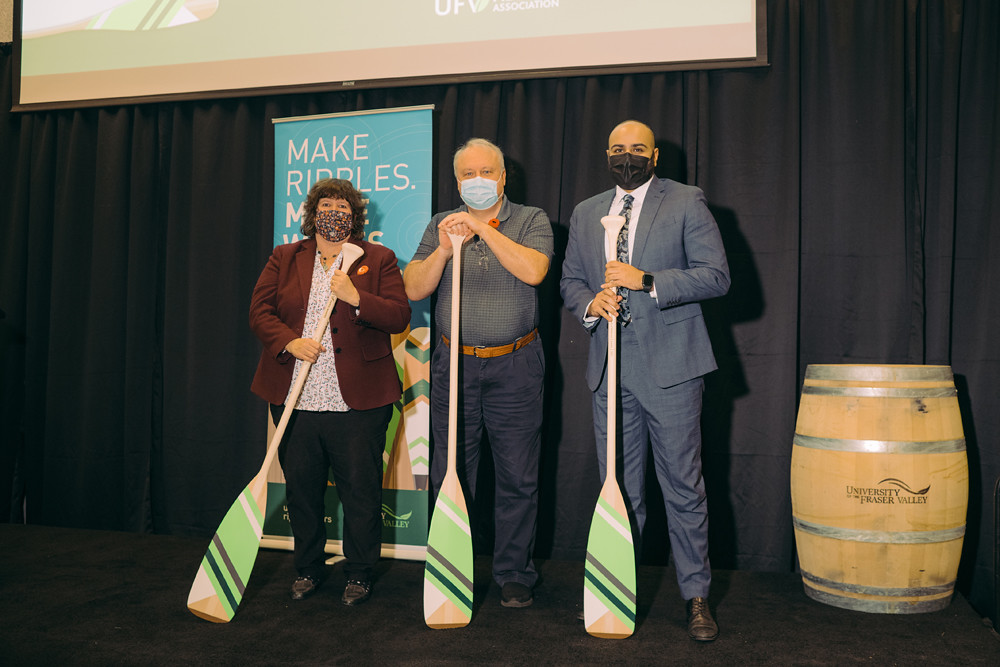 The following Loyalty donors will be honoured at a later date:
Virginia B. Cooke
Credit Union Foundation of B.C.
Derek Harnett
PoCo Garden Club.
Lifetime Paddle — Cumulative giving of $100,000+
UFV donors shape how our students experience education, and they invest in a strong future for the University.
The Chilliwack Economic Partners Corporation (CEPCO) played a significant role in supporting the development of the Chilliwack campus at Canada Education Park. We are honoured to celebrate CEPCO as one of UFV's Lifetime Donors.
CEPCO is proud of our partnership with the University of the Fraser Valley. Having a post-secondary institution in our community provides a wide range of benefits to the residents and businesses of the Fraser Valley. We encourage others to support the important work of UFV in their pursuit of changing lives and building community.

Brian Coombes
President
Chilliwack Economic Partners Corporation (CEPCO)
The following contributors were recognized for their lifetime giving of $100,000 or more. These supporters are among the University's most generous donors.
Lifetime paddles were presented to:
Chilliwack Economic Partners Corporation (CEPCO)
Prospera Credit Union
RBC Foundation
UFV Alumni Association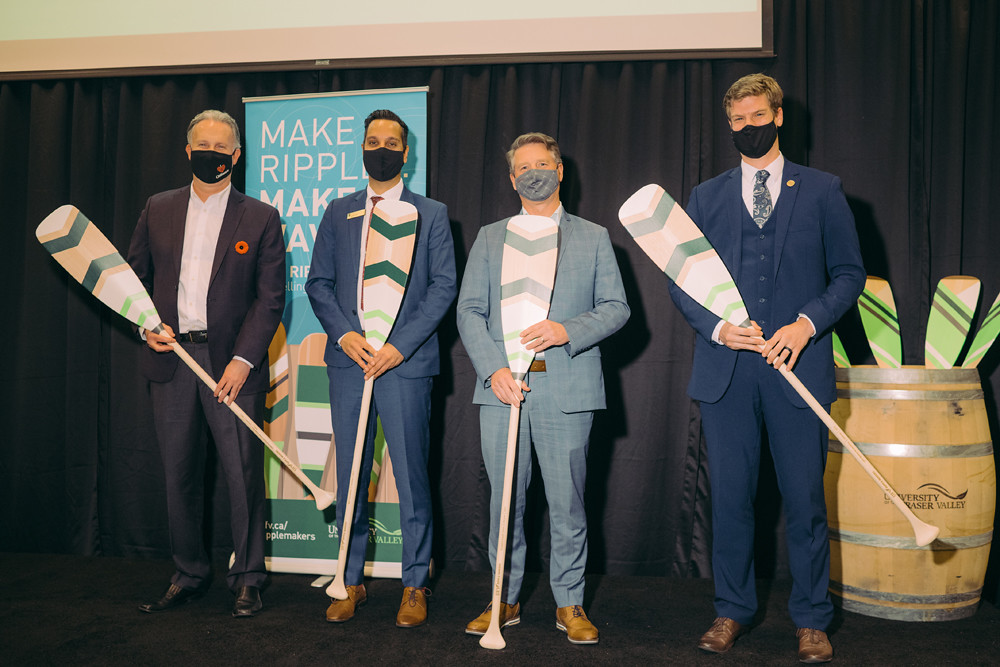 Caption: Lifetime Donors L to R:  Brian Coombes (CEPCO), Jacky Gill (RBC Foundation), Greg Dyck (Prospera Credit Union), Derrick Uittenbosch (UFV Alumni Association)
The following Lifetime donors will be honoured at a later date:
Black Press Lower Mainland
Coast Capital Savings Federal Credit Union
Malwinder S. Dhami
District of Mission
May, John and Ken Lockhart
Preview Builders International Inc.
Walter Sussel and Mrs. Beryl Sussel

Legacy Paddle — including UFV in your Estate Plan
Legacy donors are individuals who have made UFV part of their estate plan. A legacy or planned gift is a donation made by an individual through their will or other formal designation such as a gift of life insurance.
Dr. Patsy George is one of UFV's Legacy donors. Dr. George spent decades as a social worker, both on the frontlines and as a leader in her profession. She has received many honours and accolades, including an honorary Doctor of Laws degree from UFV in 2011.
Now retired, Dr. George retains a keen interest in social justice and a strong desire to improve the conditions of marginalized people, particularly those from Aboriginal communities.
She named the Patsy and Crissy George Bursary for the George sisters. It supports Master of Social Work students who demonstrate a commitment to developing programs and policies that support and help Aboriginal families.
Dr. George recently included UFV in her will.
I want to continue to make a difference in whatever way I can, and for me now, that means leaving a bequest to support future professionals who are committed to peacebuilding and reconciliation at UFV and in the diverse cultural communities of the Fraser Valley. I am very impressed with the Peace and Reconciliation Centre's linkage to several UFV programs, including Peace and Conflict Studies, Indigenous Studies, Global Development Studies, Criminology, and Social Work.
The following Legacy donors will be honoured at a later date:
Skip A. Bassford and Jane Darville
Patsy George
Walter Sussel and Mrs. Beryl Sussel.
To learn more about how you can make a difference in the lives of current or future UFV students, please contact us at  giving@ufv.ca or (604) 854-4595.
Share This