Coast Capital Savings continues support of student mental health
Coast Capital Savings (CCS) has been a major funder of the Peer Resource and Leadership Centre (PRLC) at UFV for the past six years. This ongoing support for the PRLC, which provides mental health support for students, was particularly crucial once the COVID-19 pandemic hit in 2020.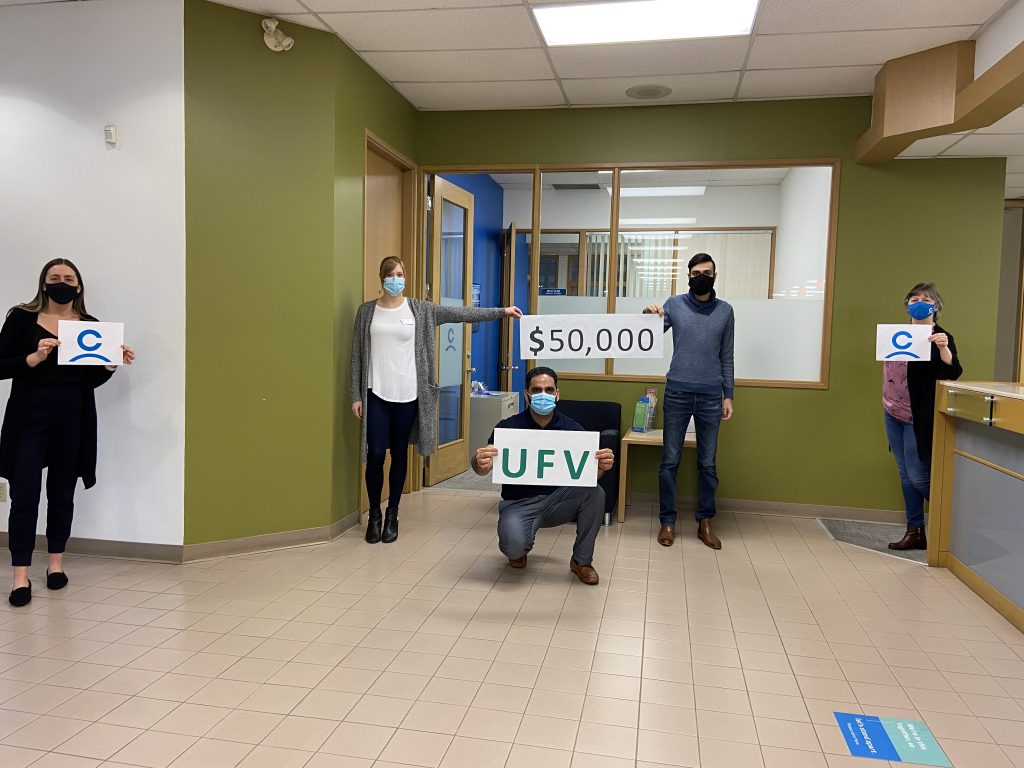 Pictured: CCS staff from the Clearbrook branch in Abbotsford.
"Coast Capital is committed to helping build better futures in collaboration with incredible community partners like UFV," says Maureen Young, Director of Coast Capital's Social Purpose Office. "The Coast Capital Peer Resource and Leadership Centre is an amazing resource that offers multi-faceted opportunities for students. The Centre helps build and develop leadership skills and offers peer support to the student community while they navigate their post-secondary education. It is a unique model that we are thrilled to be a part of."
Coast Capital Savings continued to support the CCS PRLC as the centre made a quick shift in March 2020 to offer online support due to the Covid-19 pandemic. The CCS PRLC adapted its training of over 20 student volunteers to a purely online model with a mix of synchronous and asynchronous training. The CCS PRLC Support Line opened in September 2020 to offer after-hours peer support in a virtual space. Other programming and workshops were held virtually throughout the course of the year to offer support and information to UFV students. The adaptation to online programming was essential to build connections within a virtual space, and keep the sense of community while people have been physically distanced.
"CCS has been an invaluable partner since 2015," said Kyle Baillie, UFV Executive Director, Student Affairs. "The support provided by CCS has enabled the PRLC to provide sexualized violence prevention programming, enhanced student food security, peer support opportunities, LGBTTQIA+ programming, and broad-based student engagement and support. CCS has given us the tools to begin to address some of the most complex issues in our community, and while there is still much work to be done, the impacts of their support thus far are substantial."
The adaptation to online programming was essential to build connections within a virtual space, and keep the sense of community while people have been apart. This year, more than any other, it was imperative that the CCS PRLC be available for students that are accessing support from across the globe, Baillie notes. With travel bans in effect and learning moved to an online environment, students that would normally be able to access support in person were no longer able to do so. By offering a service such as the CCS PRLC Support Line, students in different time zones were able to access support when traditional support services at UFV weren't available.
To get in touch with the CCS PRLC visit https://www.ufv.ca/prlc/
To support a program like the CCS PRLC or to make a donation, please visit ufv.ca/giving or contact Natalina MacLeod, Associate Director, Principal & Planned Gifts, at natalina.macleod@ufv.ca or 604-557-7618.
Share This