Generating learning through donation of equipment
UFV's Heavy Mechanical Trades students now have a Multiquip generator for hands-on learning thanks to a generous in-kind donation from Jim Dent Construction Ltd. (DENT).
The Heavy Mechanical Trades Foundation program prepares students to diagnose, service, and repair heavy mobile equipment at a business location or in the field.
"The Multiquip generator will be used for Heavy Mechanical trades training — initially to rebuild the high-hour engine then for fuel system training. It will also be used for training in testing high-voltage AC electrical connections in conjunction with high-voltage safety gloves and PPE," said UFV Heavy Mechanical instructor Jamie Ubell.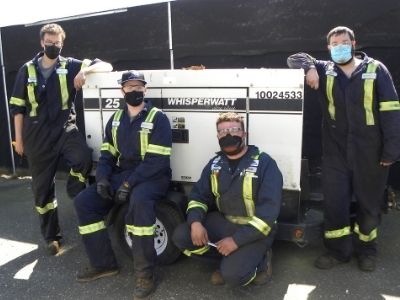 The donation came as a result of an alert apprenticeship student. Sandy Dent, DENT President, explained how it happened.
"One of our heavy-duty mechanic apprentices, David Putz, was attending UFV, and the instructor asked if anyone knew of any generator availabilities, and he said that DENT has several!"
Sandy has another connection to UFV: in the early 1990s he was enrolled as a Carpentry Apprenticeship student.
Sandy's father, Jim, started the company in 1974 in Hope, BC. Jim Dent Construction quickly became a well-established contractor throughout the province and a leading provider of specialized contracting services, delivering start-to-finish solutions for the heavy civil construction industry. DENT is BCSA COR certified and BC Forest SAFE certified.
As a proud member of the Canadian Council for Aboriginal Business (CCAB) in 2020, DENT has established Indigenous Inclusion hiring protocols to maximize Indigenous participation in the projects they work on and the communities they work near.
Jim Dent Construction Ltd. is actively recruiting for upcoming projects throughout BC and would like to receive more resumes from UFV alumni. Opportunities are available for skilled tradespeople, administrators, and co-op engineering students.
Learn more about UFV's Heavy Mechanical Trades Foundation program.
If you have items that could assist UFV programs or our students in their learning, please contact Christy MacLeod, Senior Advancement Officer at Christy.MacLeod@ufv.ca or call 778-288-0253 to explore the possibility of donating gently-used or new equipment and materials.
Share This