Giving comes naturally to Adrienne Chan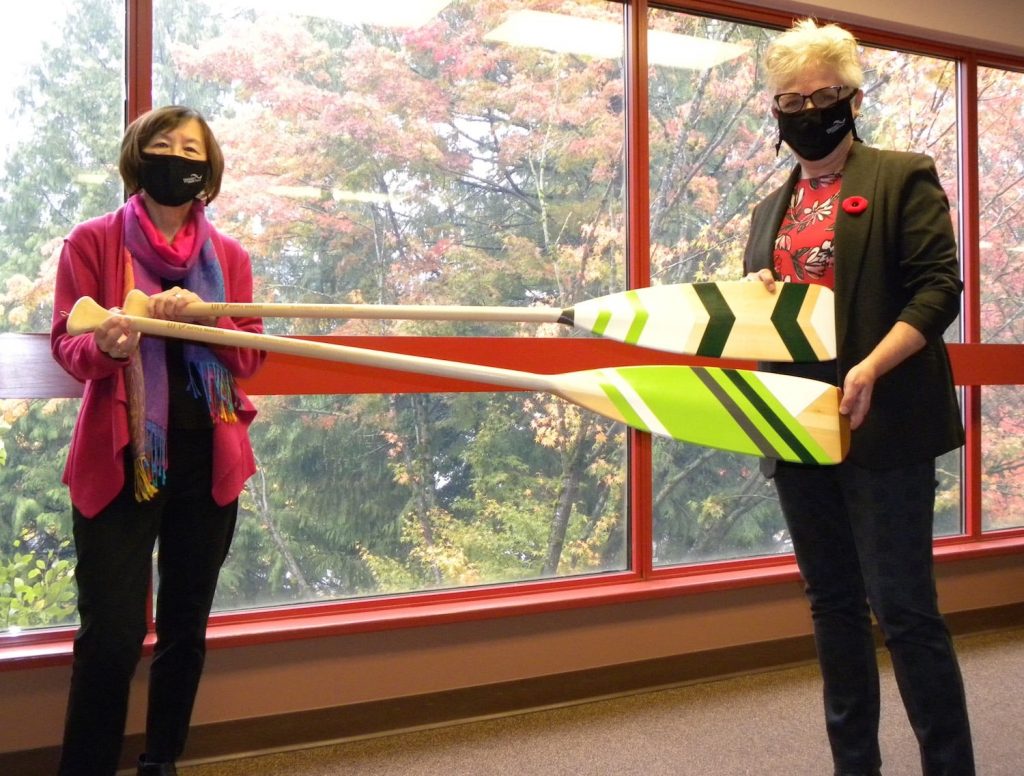 A GIVING NATURE
Giving comes naturally to Adrienne Chan.
"I'm not the kind of donor that you need to convince. I come to the table with a philosophy that giving is a positive thing."
She believes in supporting education as a fundamental way of fostering citizenship. Her philosophy aligns well with her life's work and her strong commitment to social justice, first as a social worker, then as an educator.
"Education is a force that can help make society a better place and us better citizens," she says. "It fosters and facilitates better processes and relationships. Being a student is more than taking courses and absorbing information. It changes you, helps you develop a social conscience. I have seen how taking even one course can change students' attitudes as they gain insight into issues they have never thought about before."
Adrienne, who has been a professor of Social Work and Human Services at UFV since 2004, is UFV's most generous employee donor.
She gives to support students in her home department, but also supports causes that are important to her and honours the memory of family members through donations.
Helping others through her personal philanthropy is more important to Adrienne than accumulating status symbols. So when she started a term as Associate Vice President, Research, Engagement, and Graduate Studies in 2012, she used part of the accompanying pay raise to give more.
"When I got the promotion to AVP, my brother told me I should buy a Lexus, but I got a Corolla. It's not in my nature to spend lots of money on a car. I would rather contribute to the success of future students. There's always a symbolic envelope in my budget for helping students."
Adrienne comes from a family of six siblings with a strong commitment and history of giving back to their community, whether it was time, talent, or funds.
Adrienne is a third-generation Canadian of Chinese descent. Her grandfather Chan Dun travelled on a working boat to Victoria in 1893 and had to pay a head tax upon arrival. He established a family and encouraged success. Adrienne grew up in Victoria as one of six siblings.
"My parents did not have much money to give back, but they were always volunteering at their Anglican church, the seniors care home, or out in the community. During junior high school, I was involved in the Red Cross, and fundraising for disadvantaged people in developing countries. Giving back was pretty engrained in our family culture. I knew that if I had more than somebody else then that was a reason to give, to support society and the community."
One of the first ways Adrienne gave to UFV was to establish a bursary for Social Work and Human Services students in her parents' memory after they passed away. Her sister Caroline, who had a learning disability and never graduated high school, also contributed to the Rosy and Steven Chan bursary fund.
"Caroline never got past Grade 8 but she had a very strong belief in the value of education.  Neither my parents nor my sister completed high school. Yet their belief in education was strong, as a means to better society and to better ourselves. I think that one of the gifts we give ourselves is the gift of being a donor. It has its own rewards."
When Caroline passed away in 2013, Adrienne honoured her memory with a bursary. This one, also for a Social Work and Human Services student, has the added criteria that it should support a student with a disability or from the Indigenous or minority population.
And when her brother Tony Chan passed away in 2018, she honoured his memory with a scholarship for a History student.
"My brother was a well-known Canadian historian and communicator, and an activist. He made films about Chinese Canadian history and was a professor of at several universities in Canada and the U.S., ending up as an associate dean in Ontario. He was the one who encouraged and inspired me to pursue my doctorate."
Adrienne's professional background is in social work, so much of her giving is targeted to students in that discipline, but she also supports other causes that align with her values.
"When I was AVP Research, I set up a fund to support student research assistant positions. And since I am a strong believer in social justice, I have given to support the new Peace and Conflict Studies program at UFV."
She has also volunteered for social justice initiatives at UFV, including being a founder of the UFV Race and Anti-racism Network (RAN).
Adrienne thinks back to when she herself was a student, waiting on tables to make ends meet.
"When I was a graduate student, I received a bursary that enabled me to buy books that year. It also taught me about giving, and I suppose it paved the way for me to think about giving back."
Adrienne and her family have been supporting education for more than 30 years.
"Being a donor has many rewards. There is a satisfaction that you've made a contribution to someone's life and to their future. I often receive letters and notes from recipients at universities and colleges where I am a donor. My sister used to collect all of these in a file and proudly read through them every once in a while."
The many students who have received bursaries funded by Adrienne are grateful for her support. She was recently presented with a UFV Ripple Makers Loyalty paddle in recognition of her many years of donating and a Lifetime paddle in recognition of her cumulative giving.
To establish your own named award or to make a donation to an existing student award please visit ufv.ca/giving or contact Natalina MacLeod, Associate Director, Principal & Planned Gifts at natalina.macleod@ufv.ca or 236-818-2647.
Pictured: Dr. Adrienne Chan and Dr. Joanne MacLean, President & Vice Chancellor, UFV
Share This