Honorary doctorate recipient establishes endowment to support 2SLGTBQ+ work
Growing up as a gay teen in 1970s Abbotsford was very challenging, recalls James Chamberlain (DLitt '21). There were no positive role models to be found. Now, he would like to serve as a beacon of hope, inspiration, and possibility for others.
It was a watershed moment for his family and the local community when he and his husband, Jean-Marie Russell, were married on his parents' farm in 2004. He spent almost three decades as a devoted teacher, vice-principal, and principal who committed himself to making British Columbia schools safer, more welcoming places for LGBTQ+ students and teachers.
For his tireless advocacy, Chamberlain received an honorary Doctor of Letters Degree from the University of the Fraser Valley in 2021.
Chamberlain and Russell believe young people are doing important, tough work in the 2SLGBTQ+ community — which they know it is not easy in historically conservative communities— and want to recognize them for their contributions. With two nieces in university, they are familiar with the high cost of pursuing an education. This led them to establish the 2SLGTBQ+ Pride Endowment Leadership Award, to support students who demonstrate queer activism in the Abbotsford and Chilliwack communities.
"It's not about us at all," they emphasize. "The award is about providing opportunities and paying kindness forward to future generations."
The 2SLGBTQ+ Pride Endowment Leadership Award has been established to encourage, recognize, and support student leaders. Chamberlain and Russell want to honour the actions of students making positive change to ensure our communities become more diverse, welcoming, and accepting of 2SLGBTQ+ people.
To establish your own named award, or to donate to an existing student award, please visit giving.ufv.ca or contact the UFV Advancement office at Giving@ufv.ca or 604-854-4595.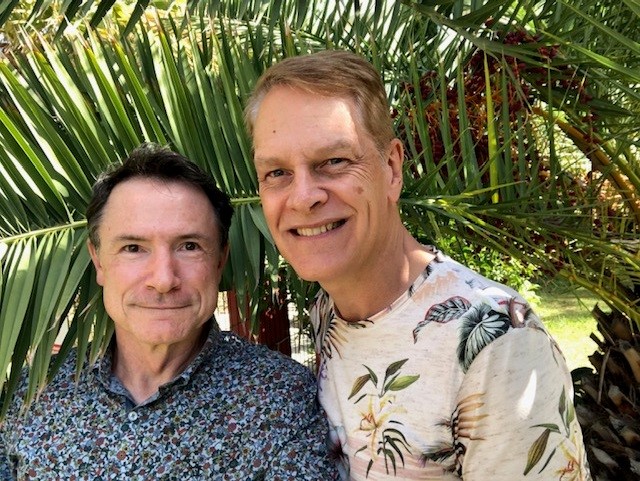 Pictured: James Chamberlain and Jean-Marie Russell
Share This