Honouring Dr. Jean Scott
Jean Scott
April 21, 1912–February 25, 2015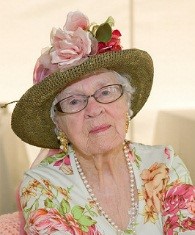 Dr. Jean Scott was, among many other things, the first woman to receive an honorary doctorate from UFV. Please consider celebrating her Jean and remembering her mission of supporting education with a donation to the Dr. Jean Scott Endowment Scholarship.
Jean's birthday, April 21, was last week, one she shared with Queen Elizabeth (although she liked to remind everyone that being 14 years older, "I have seniority"). Over the years Jean requested neither gifts nor birthday cards: she asked that each attendee to her annual birthday celebration make a donation to the UFV Jean Scott Endowment Scholarship. The endowment was established by her friends in honour of her 90th birthday and in recognition of her lifetime commitment to and involvement in issues of social justice, women's equality, and the rights of the common person. Dr. Scott was a well-known community activist and feminist who made her mark both locally and nationally. She was 102 years old at the time of her passing in 2015.
Here's a personal message from Jean on the occasion of her 100th birthday: "Thank you to all of you wonderful people who have helped make the Jean Scott Endowment Scholarship a reality. It is because of your generosity that the financial burden felt by many UFV students will be softened. Once again, I thank you for helping to ensure that young, smart, and motivated women and men of the Fraser Valley have opportunities that I never did."
In honour of Jean's memory, please consider making a contribution to the Dr. Jean Scott Endowment Scholarship through our online form or by sending your donation to the UFV Advancement Office.
Share This