Family tragedy inspired legacy of hope and support for UFV criminology students
Courtney Saran was just four years old when the unthinkable happened at a pre-wedding family gathering. On April 5, 1996, nine members of her family — including both of her parents, uncle, grandparents, and four aunts (one who was the bride to be) — were murdered in a horrific act of domestic violence in Vernon, B.C. The shooter was an estranged family member, who took his own life after the act.
For Saran's family and many within the Vernon and Fraser Valley Sikh communities, that day will be darkened forever.
"My family were really amazing people, the nicest people you could meet," says Saran, now 30. "They helped so many people and they were well-liked in the community and among their peers. This year marks the 26th anniversary of their passing."
The murders remain a painful memory for Saran and her surviving family members, but they also recognize that hope and change came out of the tragedy. The shooting has inspired tougher federal gun control and background check laws; raised awareness regarding domestic violence against women; and supported university students studying criminology.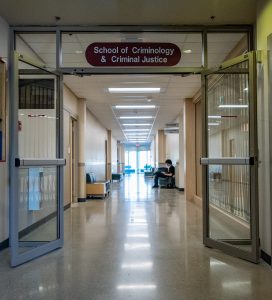 In 2007, the Kalvinder Gakhal and Roger Saran Memorial Endowment Scholarship at UFV was established to recognize an outstanding student in the UFV Criminal Justice program who has demonstrated special interest in the field of family violence. It became an annual bursary named in the honour of two of the victims, but representative of all nine who passed away in the tragedy.
The bursary has been funded over the years through the UFV Criminology department, the Criminology Student Association, as well as a few other donors. For the 25th anniversary, the Saran family made a special donation to the scholarship fund.
"Roger was my father and Kalvinder was my aunt," says Saran, whose mother, Jasbir Kaur Saran, was also killed in the attack. "I hope the students who receive this award can help prevent family violence through their work in the criminal justice field."
Although the tragedy occurred in Vernon, the Sarans were based in Abbotsford, where Roger worked as a corrections officer and Jasbir as an instructor and coordinator for the Language Instruction for Newcomers to Canada Program at Abbotsford Community Services (now known as Archway Community Services). Both Roger and Kalvinder had UFV ties, as Roger graduated from the criminology program and Kalvinder was a criminology student.
"We are so grateful to UFV for creating and funding this scholarship after all these years," says Saran, who graduated from UFV in the human resources and business programs. "It's the kindest thing that anyone could have done. It really made me feel connected to the community and supported because it honours and acknowledges my family."
Saran and her family believe the bursary will not only keep the memory of their loved ones alive, but will continue to support people who will make changes in the criminal justice system. She hopes that the system will continue to be reformed to protect the most vulnerable, amend ineffective gun laws, and stop the people most at risk of committing violent crimes.
"I know my family wants to be remembered for how they lived and not how they died," says Saran. "They left a lot of beauty behind and were a positive impact to all those around them. Perhaps through their deaths they were able to help more people and even save lives and families in British Columbia."
To establish your own named award or contribute to an existing award, please contact us at giving@ufv.ca or (604) 557-7618.
Share This