Students supporting Indigenous students
The UFV Student Union Society (SUS) is continuing its tradition of investing in UFV students, by recently contributing $10,000 to support the UFV-SUS Food Bank, and two new initiatives to support our Indigenous students.
Indigenous Student Emergency Fund
According to 2020-21 SUS President Jessica Levesque, "SUS is committed to supporting students in a variety of ways, including contributing funds which may be accessed by those experiencing financial challenges throughout their education at UFV. We are delighted to establish a new Indigenous Students Emergency Fund this year".
Betty Peters, Director of the UFV Indigenous Student Centre, is grateful to SUS.
"We lift our hands, giving our high thanks, to the Student Union Society for establishing the Student Emergency Fund for UFV Indigenous students. This fund has the potential to assist all Indigenous students — whether they be enrolled full- or part-time, in upgrading, or in continuing education — to ensure they reach their education goals. We are strengthened by the work of the Student Union Society for uplifting and supporting Indigenous students. It's a positive step in Indigenizing and reconciliation."
Stelómethet – Dr. Ethel Gardner Annual Bursary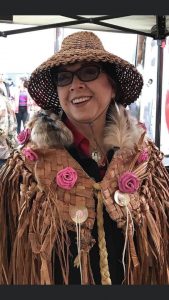 SUS also established an annual bursary to honour the late Dr. Ethel Gardner. This bursary is available to part-time or full-time Indigenous students enrolled in a Halq'eméylem language course or a course with a focus on Indigenous studies.
Ethel Gardner was born in Squeah, British Columbia in 1948. Sadly, she was diagnosed with terminal bone cancer in December 2019 and passed away in January 2020. This was a terrible shock to her family, friends, and Skwah community.
Ethel achieved outstanding academic success, including a Bachelor of Education at UBC, a Master of Education at University of British Columbia, a master's degree from the Harvard Graduate School of Education, and, in June 2002, a PhD at Simon Fraser University with a doctoral theme on the Halq'émeylem language. Because of her spectacular educational achievements, and her devotion to the revival of the Halq'eméylem language, Stó:lō Elders gave her the name Stelómethet, which means highly educated woman.
"We dedicate this bursary to Stelómethet — Dr. Ethel Gardner," said Levesque. "This bursary honours Ethel's incredible legacy in higher learning and her dedication to her Stó:lō culture and Halq'émeylem language she loved to the core of her being."
Ethel's brother, Elder T'it'elem Spath ¬— Eddie Gardner, who is an Elder-in-Residence, UFV Indigenous Student Centre, is thankful to SUS and UFV for establishing the bursary in his sister's name.
"I am so grateful for this bursary that honours my sister, Stelómethet. Ethel is a highly respected Stó:lō matriarch. Dr. Stelómethet blazed a path, challenging and motivating other Indigenous students to pursue a high-quality education from an Indigenous worldview, empowering them to make their own valuable contributions to their community and the world at large."
To empower UFV students to continue to strive towards reaching their personal, academic, and career goals in these challenging times, please donate today.
To learn more about establishing a named bursary or scholarship, please contact Christy MacLeod, Senior Advancement Officer, at christy.macleod@ufv.ca or 778-288-0253.
Share This