Trevor French creates unique bursary for agriculture and business students
Trevor French (Milker Training Cert '01, Livestock Prod Cert '03) has a passion for business and locally promotes agriculture in BC. In addition to working for 20 years as a paramedic, he has founded two companies.
Now, he wants to give back to the university that helped prepare him to launch his businesses. And he wants to focus on supporting students in need.
The newly created Trevor French Annual Bursary for Agriculture or Business Programs will assist students who are single mothers, were raised by a single parent, or are from low-income families.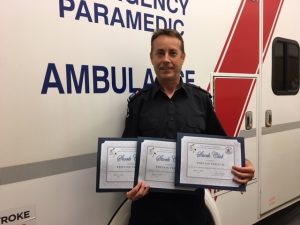 "My inspiration to establish this bursary is primarily based on being the son of a single mother and watching her struggle to feed and clothe my younger brother and me," Trevor says. "She taught us to be frugal and to not just be consumers. She modeled lifestyle economics such as being self-sufficient by planting seeds from tomatoes we ate to grow more."
Trevor took those life lessons with him into adult life.
"These daily life lessons taught me to see the 'value added' in everything around me and maximize the returns on a limited income. I see agriculture as not just people raising animals or growing crops, but also as business people who market their products to our nation and abroad. When I saw the programs that UFV offered, I jumped at the chance to expand my education in both of my passions: business and agriculture."
The knowledge he gained at UFV helped him launch two companies.
"One utilized the business plan and budget projection models I learned in my Agriculture program at UFV. The other applied the livestock husbandry skills I learned on my UFV practicums. I attribute all of these successes to the education and training I received at UFV, my recognition of agriculture as a for-profit business, and the life lessons I learned from my single mother."
Dr. Carl Janzen, Director, UFV School of Business, is grateful for the support of donors like Trevor.
"The University of the Fraser Valley thrives on community connections, and we thank Trevor French for his much-valued contributions," said Janzen. "This recently established bursary will help future students who might benefit from financial support. It is heartwarming to consider the lasting impact this support will have for students and our community. This bursary will enable our students to grow as future leaders in the business and agricultural sectors. We thank Trevor for changing our students' lives."
The Trevor French Annual Bursary for Agriculture or Business Programs will be available to students in the summer 2021 semester. To learn more about establishing a named bursary or scholarship, please contact Christy MacLeod, UFV Senior Advancement Officer, at christy.macleod@ufv.ca or 778-288-0253.
Share This