UFV Retiree Fay Hyndman investing in Students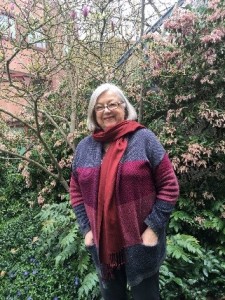 When her husband passed away in 2001, UFV retiree Fay Hyndman established an endowment at UFV in his honour. The Doug Hyndman Memorial Endowment Scholarship has benefited fourteen students since then. When asked why she decided to donate to UFV, Fay says, "Doug was a commercial pilot and, for a number of years, he was a training/check captain, a role he enjoyed very much. In his private life, besides his other interests, he was a long time student of the Fraser Valley Japanese Language School, so I guess you would call him a perpetual student.
"In addition, both our sons are UFV alumni, one from the Aviation Challenge program, and the other from the Arts program. They both think highly of their experiences at UFV – and they both fly. So supporting a student in the Aviation program seemed a natural plan.
"The last reason is more personal. Until I retired, I was a part of the UFV community for twenty years as a member of the Writing Centre Faculty. I had the privilege of working with students from a wide range of disciplines and programs, and I know some of them struggled with financial concerns. Post-secondary education is an expensive undertaking, and I believe anyone who wishes to take on the challenge should have the opportunity to do so."
Over time, this endowment was built from an annual award, thanks to contributions from many UFV faculty and staff. The $1,000 award is intended to assist a student who has chosen to attend UFV to achieve their goal. For further information about establishing or contributing to an award, please contact Sheila Reimer or Sherri Magson in the UFV Advancement Office.
Share This