UFV Student Union Society — students helping students
UFV's Student Union Society was recently recognized for the support it has provided for student scholarships and bursaries over the years.
UFV President Joanne MacLean presented UFV Student Union Society President Jessica Levesque with a UFV Ripple Makers Lifetime paddle in recognition of SUS's cumulative gifts to UFV scholarship and bursary funds, which total more than  $490,000.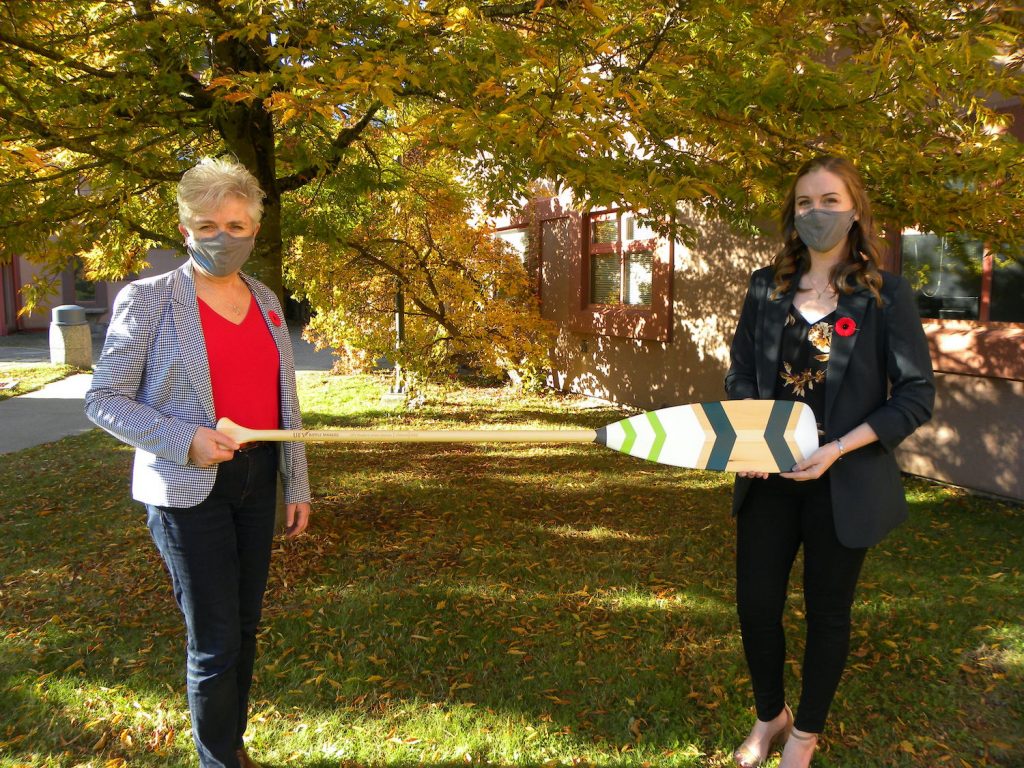 "The UFV Student Union Society is proud to continue to support students financially during their post-secondary education through our UFVSUS grants and bursaries. We are delighted to accept this Ripple Makers paddle on behalf of all students recognizing our contribution to UFV," says Jessica.
This support helped students to reach their goals — which ranged from graduate studies to professional school to entering the workforce in the interesting and rewarding career of their choice. And where are the recipients now? Vivenne Beard is a scientist; Thomas Davies, SUS President in 2015, is now a Certified Public Accountant; Roshan Gosal graduated in 2020 with a Bachelor of Science with a biology major; Brenna Hay is working on a master's degree. Dozens of students have received bursaries, grants, and awards, thanks to students helping other students succeed.
Anita Nielsen, Executive Director of Advancement & Alumni Relations, is grateful for the investment made by the UFV Student Union Society. "UFV truly values its partnership with SUS in supporting students along their educational journey. Thank you for your generosity and for your vision!"
To establish your own named award or to make a donation to an existing student award, please visit ufv.ca/giving or contact Natalina MacLeod, Associate Director, Principal & Planned Gifts at natalina.macleod@ufv.ca or 236-818-2647.
Pictured: Dr. Joanne MacLean, President & Vice Chancellor, UFV; Jessica Levesque, President, UFV Student Union Society
Share This