Chilliwack Métis Association creates special bursary
The Chilliwack Métis Association established the Nick Lang Memorial Bursary Award to honour Nick, a fifteen-year-old who died in 2015 while in government care.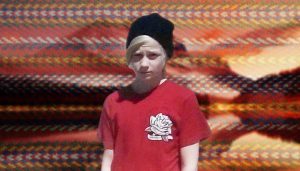 This bursary is available to UFV Indigenous students who are working towards a degree in child and youth care, criminal justice, or social work and who have a special interest in working with high-risk youth.
Louis De Jaeger, immediate past president of the Chilliwack Métis Association, and now Region 2 Director and Minister of Economic Development and Natural Resources for the for the Métis Nation British Columbia, suggested establishing a bursary in Nick's name.
Doing so fit in well with the association's commitments, which include teaching and learning Métis culture, fostering community relationships, and inspiring and mentoring the next generation of leaders.
The idea to create a bursary for Nick resonated deeply with Peter, Nick's father and the current president of the association.
Peter Lang has sought various ways to honour his son over the years, including volunteering at the Fraser Valley Child Development Centre and providing a bursary for one of his son's classmates in the year Nick would have graduated with his class.
Nick was proud to be Métis. He was very connected to his Indigenous roots — just like his dad. After Nick passed, the Métis Nation of BC presented Peter with a citizenship card in Nick's name. It was the first time a Métis citizenship card was issued posthumously in Canada.
Nick was always looking out for others, bringing school friends home. He was interested in assisting people. Peter frequently spoke to his son about how Indigenous youth without assistance and support often end up either in jail or dead at a young age.
Peter Lang has been an assistant warden for Federal Corrections for more than 20 years.
"We have to reach them when they are young. Up to 90 percent of the individuals incarcerated in the adult corrections system have experienced trauma as a child or youth, and many are now suffering from mental health issues. Because of this, I am drawn to work with causes supporting youth and a desire to inspire Indigenous youth to break cycles and look towards success.
Peter feels strongly that our society needs to address childhood trauma to assist in breaking youth offender cycles.
"There is a quote from Desmond Tutu that summarizes how I feel," he notes. "It says: 'There comes a point where we need to stop just pulling people out of the river. We need to go upstream and find out why they're falling in.'"
Shirley Hardman, UFV Senior Advisor on Indigenous Affairs, is grateful to the Chilliwack Métis Association.
"There is a deep thoughtfulness that Louis De Jaeger and Peter Lang have put into creating the Nick Lang Memorial Annual Bursary. Indigenous students often gravitate towards education and a career that will allow them to 'change the system'. I recognize this as our people wanting to reconcile our own past experiences. The generosity of the Chilliwack Métis Association in choosing UFV to share this is greatly appreciated. Indigenous students often struggle to make ends meet while going to school. This bursary will help."
To empower UFV students to continue to strive towards reaching their personal, academic, and career goals in these challenging times, please donate today.
To establish your own named award or to make a donation to an existing student award, please visit ufv.ca/giving or contact giving@ufv.ca or call 604-854-4595
Share This