Coast Capital donation funds peer-to-peer student support at UFV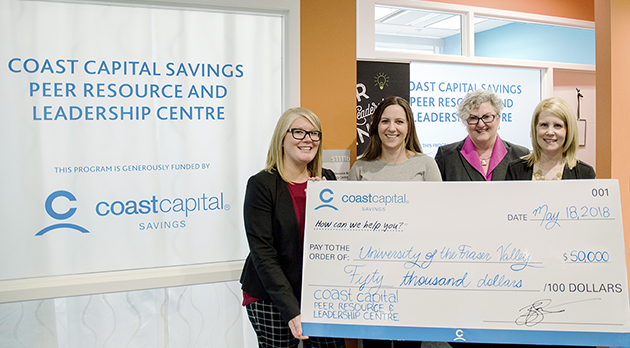 By Anne Russell | UFV Today
Coast Capital Savings is helping the University of the Fraser Valley invest in student success.
A gift of $50,000 is fuelling the UFV Coast Capital Peer Resource and Leadership Centre (PRLC) to continue helping students using a peer-to-peer support model.
The PRLC's mandate is to provide holistic help for students. At the Coast Capital PRLC, student peer leaders help students in a safe, welcoming, and inclusive space by identifying resources available to them and providing peer-to-peer support and mentorship.
"At Coast Capital Savings we promise to help build a richer future for youth in our communities, and by investing in partnerships like this program with UFV, we are making good on that promise," explains Wendy Lachance, Director, Community Leadership, Coast Capital Savings. "The Coast Capital Savings Peer Resource and Leadership Centre is helping to build young leaders who will provide invaluable peer support to their fellow students in helping to manage life's stresses as they pursue their post-secondary education."
This funding continues a long history of Coast Capital Savings' support fostering student leadership at UFV. Since 2008, Coast Capital Savings has contributed over $425,000 to leadership, peer mentoring, and career and personal development initiatives at UFV.
"UFV is very pleased to continue offering new ways of supporting student success," said UFV President Joanne MacLean. "It is well documented that peer-to-peer engagement helps students learn and further develop their skills. Since launching the Coast Capital Savings Peer Resource and Leadership Centre with the generous support of Coast Capital Savings, we have been able to implement student support and referral services that strengthen a sense of community at UFV. Community supporters like Coast Capital Savings help make UFV the kind of university that embraces a holistic view of student success."
The PRLC began offering one-on-one peer support in 2016 with 18 peer leaders, and trained 20 more in 2017. The leaders receive training in areas such as active listening, diversity and inclusion, mental health awareness, and self-care. More than 1,000 students visited the PRLC, seeking support and guidance this past academic year.
In addition, the PRLC offers a variety of services and special events. For example, the PRLC co-hosted the Canadian Conference on Student Leadership (CCSL) in November 2017, with representation from 23 institutions.
In 2016/17, it provided "positive space" and LGBTQ+ awareness training, sponsored a booth at Fraser Valley Pride, and brought in guest speaker Ben O'Keefe. In 2017/18, the centre helped introduce a Sexualized Violence Prevention program, coordinated the distribution of Naloxone on campus, played a major role in UFV Lead, a new mentorship program, and offered stress-relief activities such as Wellness Wednesdays and visits from Mac, UFV's resident therapy dog.
In 2018/19, the PRLC plans to expand its services to the UFV Chilliwack campus, explore food insecurity solutions for students, and offer sex-positive programming as well as specialized support for trans students.
About Coast Capital
Coast Capital Savings is Canada's largest credit union by membership. An Imagine Canada Caring Company, the credit union invested $5.6 million into local communities in 2017, focusing on empowering and engaging youth. Coast Capital is one of Canada's Most Admired Corporate Cultures™, and is a winner of the Canada's Best Managed Companies Platinum Club designation. It has 52 branches serving its 555,000 members in the Metro Vancouver, Fraser Valley, Vancouver Island and Okanagan regions of British Columbia. Product innovations include Canada's first free chequing account from a full-service financial institution. To learn more, visit coastcapitalsavings.com.
About UFV
Located in the beautiful Fraser Valley just east of Vancouver, British Columbia, Canada, the University of the Fraser Valley (UFV) is a fully accredited, public university that enrolls approximately 15,000 students per year. UFV has campuses and locations in Abbotsford, Chilliwack, Mission, Hope and Agassiz, and a growing presence in Chandigarh, India. To learn more, visit ufv.ca.
Share This