Students like Gina are grateful for your support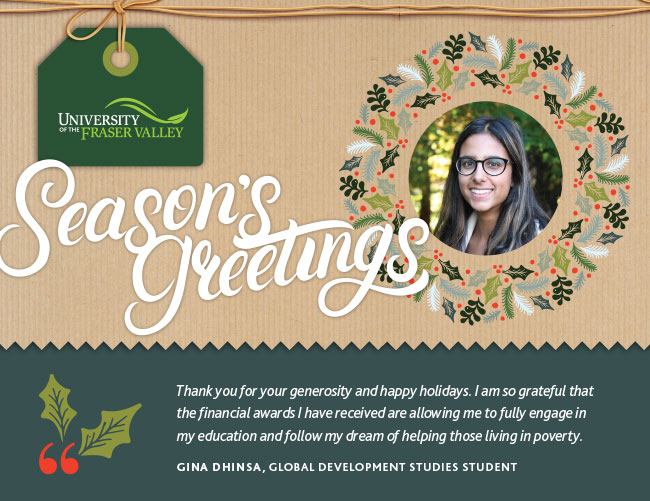 From a young age, Gina has been passionate about advocating for women and their right to education in developing countries. She strongly believes that everyone, regardless of their gender or location, deserves the right to unlock their full potential through education.
"It is a guiding part of who I am to raise awareness of global poverty and help eliminate gender discrimination in education forever," says Gina.
Gina's passion to make a difference both locally and globally led her to the Global Development Studies program at UFV. She is now in her third year of studies and loves learning about how to be an effective advocate for people living in poverty. Donors make it possible for her to actively give back to her community and gain valuable work experience.
Gina is currently employed at the Constituency office of the Pitt Meadows-Maple Ridge MPs in the community where she was born and lives today. She volunteers as Chair of the Pitt Meadows-Maple Ridge Constituency Youth Council — a group focused on improving the lives of local youth through research, advocacy, and volunteerism.
Gina's long-term goal is to become the Canadian Minister of International Development and influence the decisions Canada makes regarding global development. Following her graduation from UFV, Gina plans to attend law school to become a human rights lawyer. She believes her education in global development and human rights law will allow her to make a positive difference in the world.
"Thank you for your generosity. I am so grateful that the financial awards I have received are allowing me to fully engage in my education and follow my dream of helping those living in poverty."
---
Because of donors like you, a record number of deserving students like Gina received academic awards and financial assistance in 2018. Thank you for your generosity.
As 2018 comes to a close, we hope you will consider making a year-end gift to UFV to help even more students receive a post-secondary education in 2019.
To receive a 2018 charitable tax receipt, you may make your donation as follows:
Online: Donations time-stamped by 11:59 pm on December 31 will be eligible for a 2018 charitable receipt.
By mail: Please mail your cheque (dated and postmarked by December 31, 2018) to UFV, Office of Advancement & Alumni Relations, 33844 King Road, Abbotsford, BC V2S 7M8.
A brighter future for UFV students starts with you.
Share This