Giving just feels right to Lori Ann Waites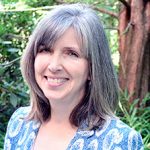 For Lori Ann Waites, the reasons for giving back to UFV are obvious.
"I give because I can, I should, and it feels great."
Lori Ann, who has worked at UFV since 2002, most recently as executive assistant to the UFV Board of Governors and now as interim executive assistant to the President, has given 515 times to UFV over the years, mostly through payroll deductions supporting the Changing Lives, Building Community Bursary, and other awards that appeal to her heart.
As an integral part of the UFV community, she has built close relationships with colleagues and often chooses to support scholarships or bursaries in their memory or honour.
"Giving to support students through scholarships and bursaries just feels like the right thing to do," she says. "I like the idea that by helping students through my donations, someone might receive funding that enables them to get an education that will prepare them to do wonderful things in the future."
Her job working closely with the UFV Board of Governors and administration means that Lori Ann is present at many major ceremonies where she gets to witness students expressing their gratitude through speeches and presentations.
"It's so inspiring when you hear students say how what they received has helped them, or when you hear about the great things they've accomplished as students or alumni. You just can't leave there not wanting to do more for them."
Share This