Help sponsor student refugees from April 5-7!
This year, Canada will welcome more than 100,000 refugees — many of whom are university-age students in dire need of financial support to begin their new lives here. Will you help two aspiring students pursue an education at UFV?
The Student Refugee Program (SRP), run by World University Service of Canada (WUSC), helps refugees cover the costs of a post-secondary education. WUSC is a non-profit international development organization that has enabled more than 2,000 international students to live and study in Canada since 1978.
In 2018, UFV formed an SRP chapter led by UFV students. While the program contributes 1/3 of the costs, UFV's and its student volunteers must raise the balance (approximately $10,000 per student).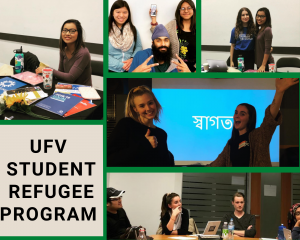 "I believe that everyone deserves a chance at higher education, and I believe that we as students have a responsibility to do what we can to help achieve this in any way we can."

– Melissa Salter, UFV Student and UFV-SRP Chapter Member
UFV-SRP sponsored its first refugee student in January 2020, and we are hoping to sponsor two refugees in 2021.
In order to support these students, we are appealing to generous donors like you to cover costs related to
Tuition & textbooks
Technology
Food
Transportation
Clothing
Housing
Our community has rallied to help students in need many times before. This past year alone we came together to help hundreds of students impacted by the pandemic with emergency funding.
Today we ask you to help two students who are searching for hope. Help us provide them a brighter future – one without conflict and despair.
Please donate to the UFV Student Refugee Program on April 5-7 and change the lives of two students forever. All gifts will be matched up to $10,000!
With gratitude,
Anita Nielsen, MMSt., CFRE
Executive Director, Advancement & Alumni Relations
Share This