Abbotsford Tech District urges support of UFV Student Emergency Fund
The University of the Fraser Valley's Giving Tuesday Now campaign prompted Auguston Development's Abbotsford Tech District to make a significant donation in the hopes of inspiring others to do the same.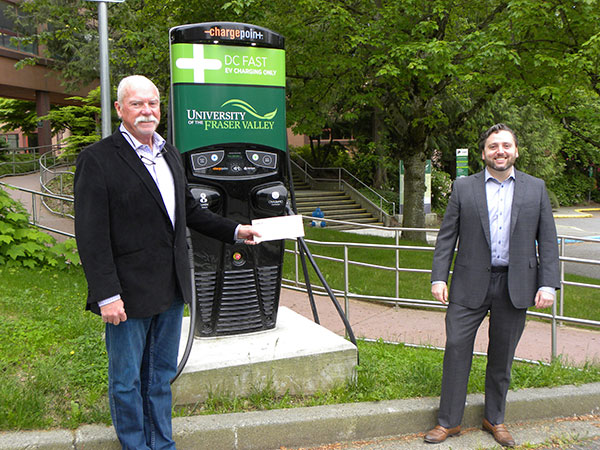 Pictured: Ian Renton, General Manager and Gavin Dew, Chief Strategic Advisor, Abbotsford Tech District.
Photo Credit: Deanna McIntyre
Among the goals of Abbotsford Tech District, one of them is to help young people stay in Abbotsford for their post-secondary education, and they demonstrated this commitment with a $10,000 donation to the UFV Student Emergency Fund.
"We are an integral part of the community and we wanted to do something to encourage others to contribute to UFV's Student Emergency Fund to help students experiencing urgent financial need as a result of the pandemic," said Abbotsford Tech District's Angela Au.
Her brother Allen Au agrees. "This a great opportunity to donate to a worthwhile cause. We are more than happy to support UFV students during these difficult times."
Anita Nielsen, UFV Executive Director, Advancement & Alumni Relations, is grateful for community partners like the Abbotsford Tech District.
"We are thrilled to welcome the Abbotsford Tech District to the UFV family. Thank you for answering our call to rally behind the many, many students who now find themselves in serious financial need with this extraordinary donation."
To date, friends and supporters have contributed more than $93,000 to help UFV students impacted by COVID-19.
Whether they have been laid off from their part-time jobs or have seen their summer employment prospects disappear, students are struggling to afford rent, buy groceries, and pay for internet for online learning. The UFV Student Emergency Fund provides immediate financial relief to those experiencing urgent and serious financial difficulties.
To make a donation to the UFV Student Emergency Fund, please visit ufv.ca/giving.
Share This