Q & A with UFV Alum Emily Henry
Emily Henry is a 2005 graduate of the Substance Abuse Counselling certificate and 2017 Distinguished Alumni Award winner at UFV. She is an Alumni Association Board Member and winner of the 2016 Art Solomon memorial award as Correctional Services Canada's Indigenous employee of the year. We are thankful for the opportunity to discuss Indigenous affairs and current affairs, like Covid, with such a phenomenal UFV grad –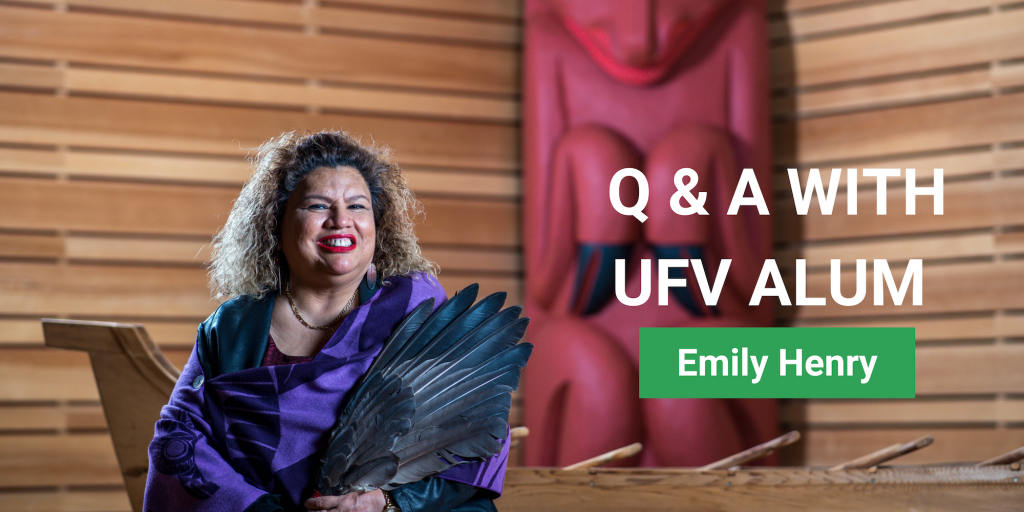 You are a strong advocate for the indigenous community. What is most pressing at the moment?
One of the things that I have taken up is providing cultural support. I have been meeting with many indigenous people that were affected by the summer fires, including those in Lytton. It was so heart wrenching to hear their stories. They spoke about how it felt to lose everything, including photos of those who have passed. We see the stories on the news and we feel we can distance ourselves from that reality. But hearing about their loss was incredibly eye-opening. I often wonder how they're going to rebuild their lives. Imagine looking around your home and think, that's gone. That's gone. That's gone. How would you feel? What would you do?
What can the UFV community do to help the indigenous community right now?
Understanding the social history of indigenous peoples is fundamentally important as it was not part of our history lessons growing up. I look at the broken relationship between indigenous people and educational institutions. It is coming to light more now with the discovery of the 215, and now the over 6,000. We are moving from discovery to recovery. How do we identify those children? There's a saying 'No school yard should have a graveyard in it' but sadly, unbelievably, that's our Canadian reality.
When I began this journey with UFV, we spoke about the impact of residential schools on our communities, but now we must do something to help those affected move forward. And one thing that needs to be done is repairing the damaged relationship between educational institutions and indigenous people. As an indigenous person coming into any institution we need to be able see ourselves there, to feel welcomed. UFV is making great strides in this direction.
Have you noticed a difference in the Indigenous community as a result of Covid?
Covid has done much more damage than creating physical illness. Covid has impacted the mental health of youth in particular. Mental health issues are pretty severe in our community because of the isolation (social distancing) involved with the spread of Covid. Kids are dropping out of school and some have died by suicide. One major issue is convincing some Indigenous people that the vaccine is safe. This may be due to systemic barriers in gaining respectful access to health care. It also may be because distrusting the government and our social history. For example, to hear we need to be vaccinated from government sources, our people might wonder to themselves 'can I trust what I am hearing?' On my home reserve, Ochapowace Nation in Saskatchewan, statistics are shared openly so that our people can be informed about the pandemic and as a way to encourage them to become vaccinated.
What were some of the impacts of colonization on your community?
As we start to talk to indigenous people about the effects of colonization, we find so many commonalities. One is the effects of attending residential school but another was attending day schools, both mandated by the Indian Act. While day school students got to go home at night, their experiences of trauma were the same. And the sixties scoop (which actually began in the 50s) had a profound effect on our culture by once again forcibly removing children from their families. The aftermath is that today, more indigenous children under fourteen are in care than all of those in residential and day school combined. People need to be aware of this and understand the why.
September 30th is Truth and Reconciliation Day, what are your thoughts and feelings about it?
As it became a federal holiday, we can see the beginning of the TRC in action. We can see that there recognition by Canadian citizens. Like I said, it's is only the beginning. It's not the end. We are starting to see Indigenization becoming important, such as, colonial statues being taken down, schools being renamed, and land acknowledgements. Ally-ship is so important. People are questioning the past. Gestures like wearing their orange shirts makes a loud statement towards reconciliation.
Do you have any final words for our donors or alumni?
Financial resources are a barrier to Indigenous students attending post secondary. Access to bursaries and scholarships is so important. I personally have established a scholarship at UFV and encourage others to do the same. This act will have a transformative effect on someone's life.
I feel very honored by this opportunity to share some of my thoughts and feelings. I'm very blessed to be part of the UFV Alumni Association board. The walk in itself is huge. It's baby steps forward, but it is a blessing. It really is.
Share This