Giving back to foster citizenship and social equity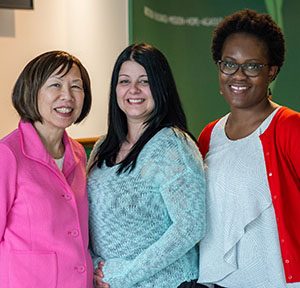 Every March, Adrienne Chan's mind turns to giving. That's the month she lost her sister Caroline in 2013, and when she takes time to reflect on that loss, it reminds her to make a donation to the bursary fund she created in Caroline's memory.
But it's not the only time she gives, or the only fund she gives to.
Adrienne, who is Associate Vice President, Research, Engagement, and Graduate Studies at UFV, believes in supporting education as a fundamental way of fostering citizenship.
"Education is one of the vitally important ways in which social equality can be achieved. To me education is about learning and thinking critically, but it is also about contributing to society and citizenship."
Adrienne thinks back to when she herself was a student, waiting on tables to make ends meet.
"When I was a graduate student, I received a bursary that enabled me to buy books that year. It also taught me about giving, and I suppose it paved the way for me to think about giving back."
Adrienne and her family have been supporting education for more than 30 years.
"When my uncle passed away, and my sister and I wanted to create a legacy in honour of him. He was a draftsman who didn't receive much formal education himself, but he encouraged me and encouraged my siblings to get an education that would be serve the good of our society. So my sister and I created a bursary in his honour at the University of Victoria."
Since that time, they have created bursaries to honour their parents. And when Caroline passed away, Adrienne honoured her memory with a bursary. Adrienne's professional background is in social work, so much of her giving is targeted to students in that discipline.
"Being a donor has many rewards. There is a satisfaction that you've made a contribution to someone`s life and to their future. I often receive letters and notes from recipients at universities and colleges where I am a donor. My sister used to collect all of these in a file and proudly read through them every once in a while.
"Neither my parents nor my sister — who had a learning disability — completed high school. Yet their belief in education was strong, as a means to better society and to better ourselves. I think that one of the gifts we give ourselves is the gift of being a donor. It has its own rewards.
The students who have received bursaries funded by Adrienne are grateful for her support.
"It is truly the small things in life that count the most. Thank you, Dr. Chan, for supporting my academic journey allowing me to pursue my dreams," says bursary recipient Alexis Christie.
"I was both surprised and honored to receive the Rosy and Steven Chan Endowment Bursary," says another recipient, Elizabeth Jonas. "I appreciate your confidence in me and willingness to contribute to my future education. I am in my third year of the Bachelor of Social Work. And as anyone attending university knows, the cost of fees, books and materials, and living expenses are daunting. This award will relieve the financial strains that the cost of tertiary education brings. Awards such as this keep dreams and possibilities such as mine alive. So I thank you for this generous award."
Pictured above: Adrienne Chan (left) with 2016 Chan Bursary recipients Alexis Christie (centre) and Elizabeth Jonas (right).
Share This