Parmar family honours father's commitment to education with leadership award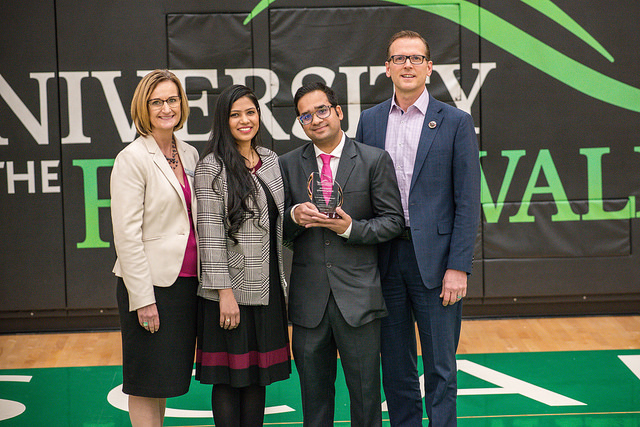 When Parminder Parmar sits down at his desk in his accounting firm, he's not alone. He feels the presence and inspiration of his father, Pirthi, who passed away suddenly in 2016.
Parminder graduated from UFV in 2007 with his Bachelor of Business Administration degree and continued on to become a Chartered Professional Accountant. He founded Parmar Advisors, which provides accounting, taxation and business advisory services, in 2011.
He had to work hard to get where he is today, including juggling two jobs while he was attending UFV full time, so he could graduate with no debt. He understands the struggle of being a student.
But his parents had to work even harder to raise Parminder and his siblings.
"I moved to Canada with my family at a young age. My parents wanted to provide their children with a better future and education. My father and mother inspired me as a child. They worked very hard in their life to ensure I became what I am today. Our early days in Canada were not easy. My dad was an educated man and he had a very good job in India but for a better future for their kids my parents worked labour jobs in Canada to ensure that we had food on the table. They worked long hours with one goal: to provide us with education and a better future."
Getting a post-secondary education was a big priority in the family.
"My parents are strong believers of education and they always encouraged me to obtain higher education. My goal as a child was to become successful in life so I can make my parents proud. My parents inspired me to work hard and obtain a higher education. I inherited the ability to work hard from my parents," Parminder notes.
"My dad and mom were very proud of the fact that I achieved higher education. Every time they spoke to someone about me you could see a glow or a smile on their face, which showed that how proud they were of my achievements and my education. It give me great comfort that in achieving my goal I was also fulfilling their dream.
"UFV played a huge role in making me what I am today. I spent four years at UFV studying for my Bachelor of Business Administration degree. The education I obtained at UFV provided me with tools to succeed in real life."
The family decided that the best way to honor Pirthi Parmar was to set up a leadership award endowment in his name.
"As a student I always appreciated scholarships and bursaries for the financial help they provided. This award will help students in need to achieve their education goals. My decision to give back to UFV was a very easy one. I have a very deep connection with UFV as an alumnus. I owe a great deal to UFV for providing me education to succeed in life. It is my turn to give back to UFV."
Parminder and his wife Mandeep believe in giving back to the community of the Fraser Valley. They recently welcomed their first son, Parvaan, and brought him to the 2017 UFV Town and Gown fundraising dinner. Parminder was an active member of the 2017 Town & Gown Community Leaders Group.
The Pirthi S. Parmar Endowment Leadership Award (Business) is open to returning students in the School of Business — diploma or degree program of any major or minor.
The Pirthi Singh Parmar Memorial Endowment Leadership Award has been set up by the Parmar family to honour and remember Pirthi every year for causes he believed in — unconditional giving and a chance for an education.
Share This