Lesley Spier and Nigel Dance Memorial Endowment Bursary in Science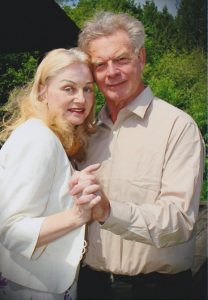 Lesley Spier and Nigel Dance were passionate teachers in the Chemistry department at the University of the Fraser Valley. They worked together at UFV for a combined total of nearly 70 years before retiring. Sadly, Lesley and Nigel passed away shortly thereafter. This award is to celebrate their kindness, care for others and commitment to helping students learn and pursue their passions.
Between 1979 until 2015, if you were a student in the Chemistry department you had a good chance of studying with one or both of them. In addition to teaching chemistry, Lesley also developed and taught the school's first Forensic Science course. Lesley was a thoughtful, passionate teacher who found creative ways to engage students in what they were learning – many students will remember creating memorable skits, songs, and demonstrations in her classes. Nigel had a wonderful sense of humor and put a lot of care into his teaching — often using analogies (and puns!) to help students grasp and retain complex concepts. He was a patient, kind and inquisitive person who relished his time spent teaching, from labs to many hours of one-on-one tutoring in office hours.
Lesley and Nigel were extremely dedicated, caring teachers who enjoyed the subjects they taught. Perhaps Kate and Anna McGarrigle's song NaCl (1984) best captures part of the joy of chemistry they shared. They strongly believed that an instructor's primary role is to serve the needs of students and they strived to ensure that each individual student left the classroom having gained something meaningful from the experience. Over their many years at UFV, Lesley and Nigel worked to ensure that students felt supported in their learning and that everyone who entered the university doors had the opportunity to pursue their passions and succeed at their goals. Lesley and Nigel will be warmly remembered by the colleagues they worked with, the students they impacted, their friends and family. In particular, they are missed by their three children who love them dearly and couldn't have asked for better teachers (both in chemistry and in life).
This endowment is funded to provide a $750 bursary annually with $18,750 currently endowed. The fundraising goal of a $1,000 bursary will be reached by a $25,000 endowment. Please note that any donation to UFV is eligible for a tax receipt for the full gift amount.